BIG GAME FISHING IN MAURITIUS
INTRO
Big Game Fishing is a form of recreational fishing practised around the world that targets large game fish.
This form of fishing is also known as offshore game fishing, offshore sport-fishing, deep-sea fishing or blue-water fishing. An activity that both amateurs and professionals enjoy.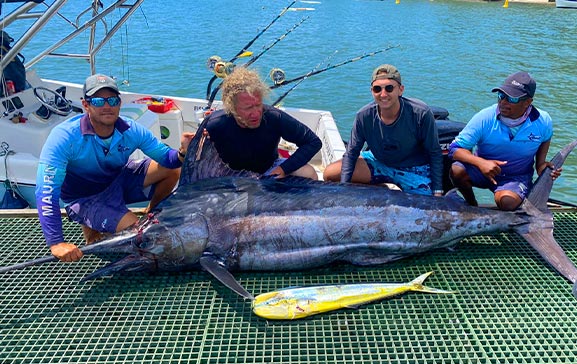 BIG GAME FISHING IN MAURITIUS
TARGET SPECIES
There are many fish species up for grabs when booking a big game fishing excursion in Mauritius, but the first that comes to mind is the emperor of the sea: an apex predator (billfish) also known as the marlin.
Blue marlin
For those looking to experience the fight of a lifetime, the blue marlin is the perfect challenge to take on in Mauritius. Once hooked, these highly energetic specimens are known to offer tantalizing fights coupled with acrobatic leaps in and out of the water which are quite a sight to behold!
Black marlin
In Mauritius one doesn't have to venture too far out to sea to encounter this species; they can be found lurking near the surface in warm shallow waters. But mind you, this fishing is not for the faint-hearted! The black marlin is known for its tenacity so be prepared to prove that you are worthy of posing alongside this gorgeous trophy!
SAILFISH
For those who are ready to take on this legendary beast head on, they can be found in the prime spot that is Mauritius where it is possible to reel one in relatively close to shore. Just be careful not to let this wolf of the ocean drag you and your tackle into the water with the sheer brutality of their runs!
STRIPED MARLIN
(VERY RARE IN MAURITIUS)
The striped marlin, which has long been the target of both commercial and recreational fishing, is hard to come across today and hooking one in Mauritius is a rare feat but certainly not impossible!
At Fish Whisperer, we primarily catch marlin by trolling surface lures at speeds ranging from 7 to 9 knots and trolling live baits at 2 knots.
We mostly focus on fast trolling which allows us to cover more ground, but we also occasionally use live bait to vary the experience, increase the odds and to keep you busy.
People enjoy deep sea fishing for a variety of reasons:
• the rush of adrenaline and excitement felt on board when a fish strikes
• the emotion felt when spotting a surface strike
• the spectacular aerial acrobatics of a hooked billfish
• the sound of a screaming reel from a fish peeling off line
• feeling the brute force of the fish at the other end of the line
• holding a trophy fish
Other magnificent species that can be caught while fishing in Mauritius are Dorado (Mahi Mahi), Yellowfin Tuna, Skipjack Tuna, Wahoo, and Dog tooth tuna, all of which put up terrific fights and are exhilarating to catch.
Because of their smaller size, these five fish species could be classified as "Small Game Fishing" targets in the Indian Ocean.
Yellowfin tuna
Small or big, this specimen is known for putting up one hell of a fight and for pulling with all its might using its weight to its advantage.
If you love a good challenge, then you should definitely try winching a hefty one out of the Mauritian waters. The ferocity of this beast coupled with its unpredictability and bullet-like speed is sure to keep you busy for a while!
Skipjack tuna
In Mauritius, skipjack tuna abound between March and April and while mainly destined for the canned food market or else used as live bait for marlin fishing, they also make for some great sport on rod and reel.
Although smaller than their tuna cousins, they are no less obstinate and fast and trigger as much adrenaline rush and satisfaction as any other big game fish!
Dogtooth tuna
In Mauritius the record for the dogtooth tuna stands at 212 pounds (not far behind the world record of 224 pounds).
The warm tropical waters around the island make for the perfect battleground to challenge those fast and wily fiends, so how about bringing your A game and possibly setting a new world record…
Dorado (Mahi mahi / Dolphinfish)
Plentiful, mahi-mahi are a favourite among the sport fishing crowd always up for a good fight and a spectacle of acrobatics that will not fail to impress.
This mythical creature also makes for some very nice shots to brag about for a long time. If you are wondering where to catch this species in Mauritius, then the best bet is to start near floating objects or debris where it often hunts for small fish. Bringing a gorgeous dorado on board after a hard-won battle is one of those moments that is guaranteed to leave a lasting imprint on any angler!
Wahoo
A peculiar fact about the wahoo is that it has a profound dislike for dirty water and instead prefers crystal clear waters like those that Mauritius has to offer.
Trolling or casting next to seamounts, pinnacles or floating debris will certainly increase your chances. The wahoo is a prized game fish among sport anglers who get a kick out of its phenomenal speed and strength. Those razor-sharp teeth lashing out at your bait or lure indeed promise an exhilarating fight that you are not ready to forget any time soon!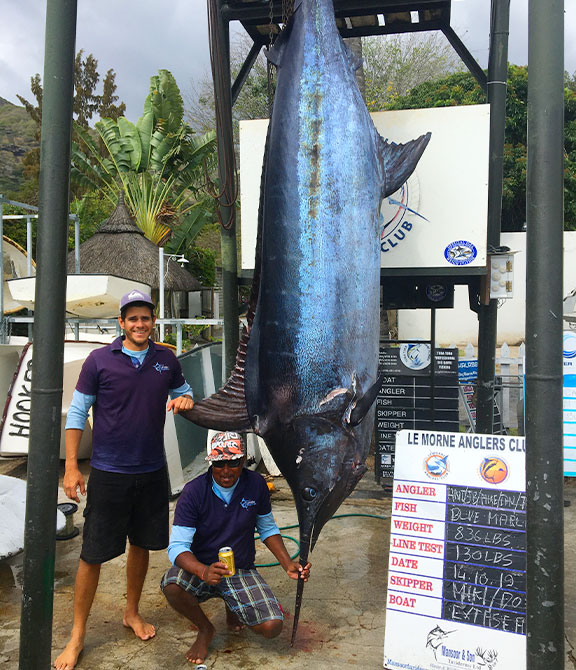 Why choose us?
We will do everything possible to ensure you return to the harbour with at least one fish under your belt!!!
"The Highlight of your Holidays"!
When marlin fishing and trolling lures at a constant speed, it can take several hours to get a strike, and that strike is never guaranteed. As a result, we offer multi-technique fishing for big game and small game to ensure as much action on board as possible for those of you who don't have the patience to wait for that huge, elusive bite.
However, every now and again, we have serious anglers who book multiple days in a row purely for big-game fishing. They crave this excitement and can spend several hours offshore in pursuit of the emperor of the sea.
CHARTER BOAT IN MAURITIUS
Onboard security
When you board one of our boats, you can be confident that every precaution has been taken to ensure your safety and comfort.
Ian, Michael, Dominick, and Yano are ultra-focused on their activities, especially fishing. To avoid any injuries, it is critical to handle the hooks, fish, rods, and the rest of the gear with care.
With a bilge pump, a wash down pump, heavy-duty tackle, Shimano reels and rods, a vast range of lures, and a fighting chair for deep-sea fishing, the "FISH WHISPERER" is fully equipped and customised for sea excursions.
A first-aid kit, security ropes, a VHF radio, and life jackets are all readily available in case of emergency.
DEEP-SEA FISHING IN MAURITIUS
The seasons
Because Mauritius is a year-round fishing destination, you can enjoy this activity at any time of year when visiting the island. However, based on our extensive local knowledge, we recommend the following periods for various fish species:
Marlin
Marlin Fishing: Best from December to March.
If you book with us during these four months, keep in mind that the optimal times (in terms of moon phase) are three days before and three days after the full moon or new moon. The day of the first quarter moon or the last quarter moon are also favourable.
Tuna
Tuna fishing is possible all year round.
From May to September, the yellowfin tuna weigh around 5 to 10 kgs. From October to February, the yellowfin tuna tend to be bigger (between 20 and 50 kgs). From March to end of April, the chance of catching really big yellowfin tuna (70 to 100 kgs) is much greater. During these two months, a special current brings schools of very small skipjack tuna (Mauritian name – bonito mackerel) weighting roughly 50 to 150 g, that are hunted by big yellowfin tuna.
These little bonito mackerel serve as extremely good live bait for targeting other predators, such as king mackerel, dogtooth tuna and giant trevallies.
albacore tuna
The beginning of summer is marked in September/October by the advent of a very strong current that brings albacore tuna. This current also brings lots of drifting objects on the surface (floating debris such as pieces of rope, wood, …) Dorado, wahoo and tuna stick around to hunt these little bait fish that seek refuge under these objects as a means of protection against predators. Fishing around this debris can be a lot of fun.
The sea gets cooler around March/April, which provides favourable conditions for the arrival of dorado and wahoo.
giant trevally
Mauritius has over the years become a hotspot for taking this so-called gangster of the flats head on. But mind you, bringing this beast on board is no easy feat even on heavy tackle. A freshly hooked GT spells doom for the angler who has to work every muscle in their body to keep up with the impressive speed and power of this sea monster. Add to that its unforgiving strike and endless runs, all of which make the giant trevally an adversary to be reckoned with. Hooking one certainly promises the fight of a lifetime!
Small game fishing
Small game fishing in Mauritius is possible all year round. But there are 4 months that we particularly enjoy small game fishing are September/October (winter to summer transition) and March/April (summer to winter transition).
The beginning of summer is marked in September/October by the advent of a very strong current that brings albacore tuna. This current also brings lots of drifting objects on the surface (floating debris such as pieces of rope, wood, …) Dorado, wahoo and tuna stick around to hunt these little bait fish that seek refuge under these objects as a means of protection against predators. Fishing around this debris can be a lot of fun.
The sea gets cooler around March/April, which provides favourable conditions for the arrival of dorado and wahoo.
Big marlin
Big marlin are common during the winter months (June to August).
We have, however, observed that marlin remain active and bite on the surface all year long, especially around the new and full moons.
king mackerel
Much coveted by recreational and commercial fisheries, the king mackerel can be found just beyond the Mauritian reefs in waters between 10 and 50 metres deep where there is a high concentration of bait fish for it to feast on. Once hooked, this spirited fish offers anglers incredible sensations with its lightning-fast runs and majestic leaps, without mentioning the sheer brutality of its razor-sharp teeth … better keep your fingers away!
FISHING IN MAURITIUS
The fishing techniques
Depending on the type of fish we are pursuing and the speed at which we are moving, we utilise a combination of fishing techniques such as trolling marlin lures, jigging, casting, and live bait. This ensures that you have a multi-tackle experience and the best chance of success on your trip.
Trolling marlin lures as explained, is at a speed of between 7 and 9 knots.
The form of jigging we practise, consists of dropping a 200 to 300 gram lure vertically to a depth of around 100 meters (around FADs and in a boil) while retrieving and working the lure vigorously back to the surface. It is a good technique for yellowfin tuna. The motors are on neutral while the boat drifts slowly with the wind or the current, depending on which is stronger.
Casting is about launching weighted lures or poppers in and around a school of baitfish. It works for skipjack tuna, yellowfin tuna and dorado. The motors can be running or on neutral, depending on whether we use this technique while fighting another fish or while trolling.
Live bait or dead bait, depending on what types of live bait/dead bait we are using, work well for marlin, dorado and yellowfin tuna. The boat engines can be running or can be on neutral, depending on what fish we are targeting.
DEEP-SEA FISHING IN MAURITIUS
Catch and release
(Marlin and other pelagic species)
First and foremost, as we're located in the Indian Ocean, where the water temperature varies between 24 and 30 degrees Celsius depending on the season, it is ideal for a wide variety of bait fish, sedentary species, and all types of pelagic fish.
Second, Mauritius has underwater structures (reef drop offs at varied depths) that create favourable currents which in turn provides excellent hunting grounds for predators.
Lastly, because of the Fish Aggregating Devices (FADs) installed by the government. These FADs are simply a seabed anchor with a rope leading to the surface, connected to multiple fluorescent orange buoys.
Nets are attached to the rope at various depths to create "houses" for the tiny baitfish. Overtime, seagrass and small shells grow on it, luring baitfish, which in turn attract larger fish.
Mauritius provides the ideal conditions to attract passionate fishermen from all over the world.
CATCH AND RELEASE – Billfish
(Marlin species)
We do offer catch and release of billfish caught on our boats because we believe it is the most effective way to ensure a healthy marlin population.
Fish sales account for a significant portion of our revenue. Selling a large marlin can sometimes bring in a significant sum of money, allowing the skippers to receive a nice bonus at the end of the month.
Smoked marlin is a delicacy that is enjoyed by people all around the world. However, we do not recommend eating marlin meat on a regular basis.
We look forward to receiving your suggestions and requests regarding marlin catch and release.
CATCH AND RELEASE – Other pelagic species
Other than marlin, catch and release is not a possibility as we sell the majority of our catch (mahi mahi, yellowfin tuna, wahoo) to individuals and restaurants on the West Coast of Mauritius.
The fish we sell are filleted and skinned, ready to be cooked. Pelagic species are not endangered or threatened with extinction.
Private fishing excursions
Since the launch of Fish Whisperer in 2014, we've received numerous requests to share the boat with other people/groups. After trying it out, we came to the conclusion that it is not a good option for several reasons.
Often times, guests come from different countries, which requires constantly switching from French to English while at the same time doing the job. The focus on the guest is lost along the way, which is not the intention.
On occasion, one or several people get badly seasick. As a result, they have to go back to shore as they have no choice. This can be tricky as it can lead to frustration as the fishing excursion time gets reduced or the excursion ends without getting the opportunity to catch anything.
Guests from one group arriving late while the other arrived on schedule and thus losing the prime time "sunrise"!
We understand that paying for a boat for one person can be pricey, but we have decided to only offer this option in order to provide you the best possible conditions for your excursion.
FISHING IN MAURITIUS
The fishing hours
In Mauritius, there are only three fishing charter operators that offer very early departures. We're one of them.
The departure time can vary between 4 a.m. and 5 a.m. depending on the season (summer sunrise is around 5 a.m., winter sunrise is approximately 6:30 a.m.). This is due to the fact that the fish usually begin feeding just before or during sunrise. That's why we need to be on the fishing spot at the right time. It significantly increases the probability of catching more fish.
It's very common to catch fish in the early hours of the morning and at sunrise, thereafter, the bite slows down completely as they head further down the water column. At the very least, if we go the extra mile and get up really early, you'll have a better chance of catching a fish or two.
Of course, we're flexible and can provide alternative departure times based on fish activity and guest requests.
We operate off the Southwestern Coast of Mauritius, near Black River, Tamarin, Flic en Flac and Le Morne – arguably the best spots for Big Game Fishing on the island.
International competition
Every year in January, Mauritius hosts the SOUTH INDIAN OCEAN BILLFISH Tournament (SIOBC), an international fishing competition.
It is organised by the Le Morne Anglers Club, which is also where all of our excursions depart from.
Every year, numerous teams from around the world travel to Mauritius specifically to take part in this incredible event. The competition takes place over four days, with one day off in between.
For additional information, please visit the Le Morne Anglers Club website.
Prices
(Maximum of 5 Persons) Boat used is Fish Whisperer
Rs 17,000/Boat

Half Day excursion: 5h00 am to 11h00 pm
Rs 22,000/Boat

Full Day excursion: 5h00 am to 14h00 pm
Every excursion includes refreshments (Water & Soft drinks).
The hours of the Fishing excursion are very flexible and can be settled depending on the demand or upon fishing conditions. Every fish caught on board will remain the property of the Boat. *Fish Whisperer offers clients the opportunity to bring home up to two young fish (maximum of 5 kgs each) and can have them filleted for you!
Terms and conditions
BOOK YOUR SPOT NOW!
Reserve a spot today so you don't miss out!