+(230) 5 732 55 23  /  +(230) 5 724 3489
ABOUT US
Fish Whisperer is a company based on the West Coast of Mauritius that offers five boating activities primarily focused on Fishing and Dolphin Watching in the region of Black River, Mauritius.
Fish Whisperer was launched in February 2014 by two highly passionate and experienced Mauritian fishermen namely: Ian Koenig and Michael Forget with the aim of offering a personalised service to fishing enthusiasts and those who enjoy a variety of sea activities.
Apart from Big Game Fishing and Dolphin Watching on the West Coast of Mauritius, they also offer unforgettable boat trips that are customisable.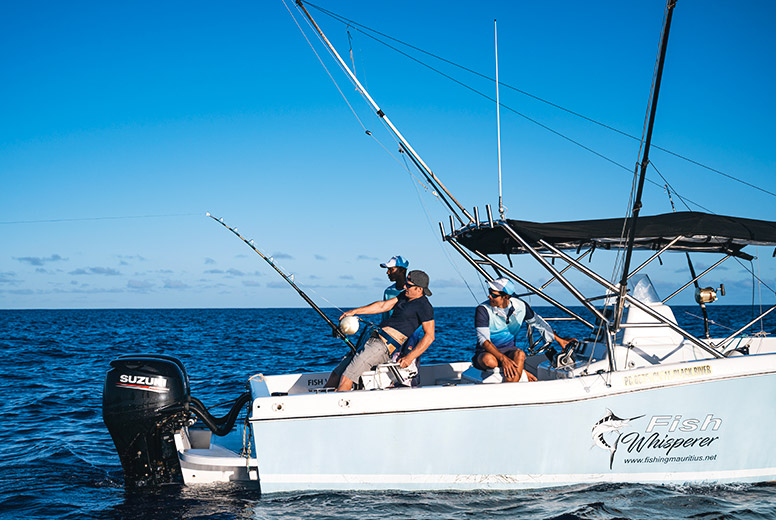 BIG GAME FISHING
The Mauritian waters have built a well-deserved reputation for being one of the best destinations for catching a variety of Billfish such as Blue marlin, Black Marlin, Striped Marlin, Sailfish and Spearfish.
On big game fishing trips, you may also encounter Hammerhead Sharks, Wahoo, Dorado (Mahi-mahi), Yellow Fin Tuna and Bonito. Ian and Michael will go the extra mile for you, so that you can put your inner Hemingway to the test.
SMALL GAME
FISHING
Yellow Fin Tuna, weighing between 3 and 25 kg are available all year round, off the West Coast of Mauritius.
Fish Whisperer has an 85% catch rate when taking clients trolling, jigging and casting for Tuna, Bonito, Dorado and Wahoo using jigs, silicone and plastic lures. Dorado, Wahoo and Bonito are also frequently caught.
FAMILY
FISHING
Our Family Fishing excursions are specifically designed to provide a meaningful and enjoyable fishing opportunity for the youth!
We promote fishing as an alternative leisure activity and educate the youth in terms of angler ethics, fish identification and water safety to develop skills that provide a lifelong hobby.
DOLPHIN
WATCHING
Dolphin watching is on the bucket list of most people. In Mauritius, you can swim with them in their natural habitat, which is even more spectacular!
It's awe-inspiring to observe these creatures playing, cruising, and swimming in their natural habitat.
EXTASEA
Extasea is a 22-foot 'Legend' boat that was built in Mauritius in 2012.